"Graduate school? Really? But I just finished my undergraduate degree and now you want me to keep on going? Moneyman, what are you thinking?"
Great questions. And I'm here to answer them. Also the ones you didn't ask: "How am I going to pay for it?" and "Shouldn't I go out in the workforce first before I go on to graduate school?"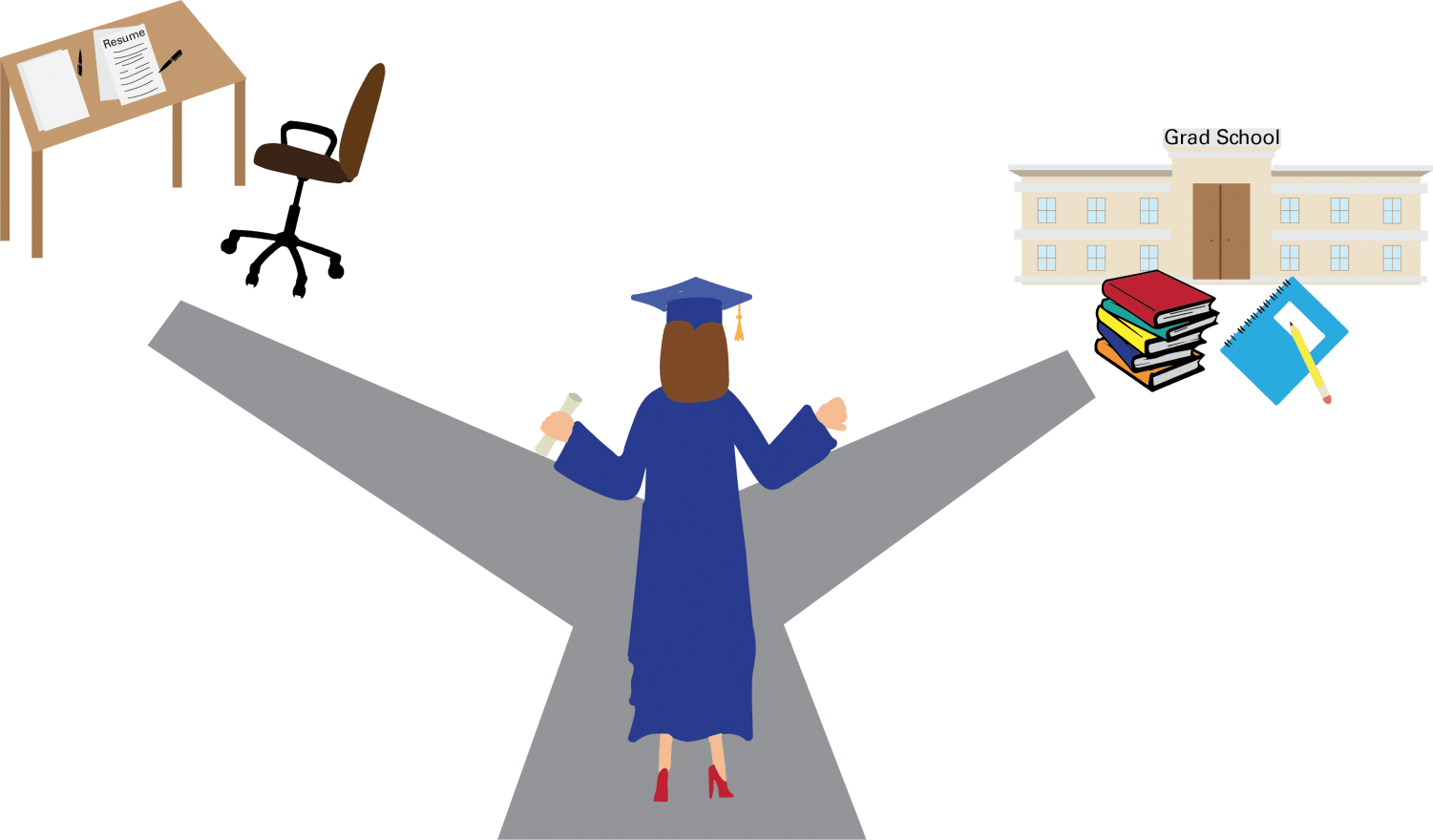 In our current economic situation, some of you may be thinking that going on to graduate school after you finish your undergraduate degree is a good choice, and moneyman isn't going to argue that! Especially if your chosen field is one where advanced degrees are a requirement for later promotions or for entry level interviews, a graduate degree now may be a wise investment.
If we look at data from the BLS (Bureau of Labor Statistics), we can see that a graduate degree pays off (on average) in two ways: increased weekly earnings, and lower unemployment. In fact, in 2019 the income difference between an undergraduate and a master's degree was $236 per week (or about $12,300 a year). The difference is much higher for a professional degree, like a Law Degree or MD (an average of $686 more per week than an undergrad, or a total of $35,700 per year). Again these are only averages, but they are important to understand the financial potential impact of graduate education.
So if you want to go "back" to school to get your graduate degree, what should expect when it comes time to pay for it? Well, first, let me introduce you to an old friend — the FAFSA. The same form you have been using to apply for financial aid as an undergraduate is also required from you as a graduate student with a few important differences.
You are automatically independent when you apply for financial aid as a graduate student. Even if you aren't yet 24 years old, your FAFSA can be completed without parental information when you apply for graduate school financial aid (BUT — here is a warning — some law schools and medical schools may ask you to fill in the parental information anyway so that they can use this information to determine if you qualify for their scholarships).
Your application for Federal financial aid will be for loans. The Federal government does not offer any widespread graduate scholarships (like the Pell Grant for undergraduates). Mostly you will do the FAFSA as the first step in qualifying for your Federal loans.
Check to see if your graduate school requires any other financial aid application, either one of their own or using a third-party application system. If they do, fill it out since this may qualify you for scholarship or grant money.
You can likely pick up where I am going here. For graduate school, much of the money available is loans. In fact, you can take a look at Sallie Mae's report on How America Pays for Graduate School and see that (at least in 2017) about 53% of graduate school costs were covered by student borrowing. The College Board's Trends in Student Aid 2019 places the percentage paid through loans slightly higher (at 66%).
The "good" news is that between the Direct Unsubsidized Student Loan and the Graduate PLUS Loan you can qualify to borrow the entire cost of graduate education. In addition, there are minimal credit standards for these loans, so no cosigner will generally be needed unless you have an adverse credit history. Of course, these are loans that need to be repaid so you won't want to borrow more than you can afford to repay.
But what if you want to minimize loans? Well, there is some better news here. Both the College Board and Sallie Mae agree; there is some grant and scholarship money available here (between 15 and 21%). Generally though these scholarships are based on merit and not need. In addition, some of these grants-in-aid may come with requirements for work (like teaching assistantships who lead undergraduate study groups as TAs, or research assistantships where graduate students serve as lab assistants or research fellows). Departments in graduate schools also often have funding sources of their own, so be sure to check with your department head (or better yet their administrative assistant) to see what other funding options are available.
As an example, take a look at UF's and FIU's webpages for graduate financial aid and you will see that they match the processes outlined above. And don't forget the good advice moneyman offered you about private scholarships. Many private funders support graduate education, so make sure to apply for these opportunities.
There is no reason to put off graduate school, especially if you don't have great luck right now in the job market. Of course, if you are working you also want to take a look at your employer's benefit package — do they offer graduate school tuition for free? For example, Disney's Aspire program offers free graduate degrees in a number of career pathways for hourly cast members (and the benefit is even extended during the current closure and furlough). Don't forget that another great employer may be the university itself (and often tuition reimbursement or remission is a benefit of employment).
What questions about financial aid in graduate school are left unanswered? Let moneyman know by asking a question in the chat.